Guide to Decorating with Antiques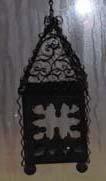 When it comes to ideas for interior design, decorating with antiques is one of the best techniques for creating a unique, personalized look for your home. We like to search for vintage pieces that can be used in one of three ways:
1) Functionality ~ most antiques are not so valuable that they can't be used and enjoyed on a regular basis
2) Pure design element ~ for display or incorporated into an overall theme or interior style
3) Creative use or display ~ of items in ways not originally intended
My 217 year old home becomes a backdrop for a subtle mixture of old and new. I tend toward purchases of new pieces when it comes to upholstered furniture, but antiques when it comes to wooden furniture that bring warmth, personality and history to a room.
Displaying antiques no longer means filling the home with multiple collections, and clutter. In fact the opposite is true; antiques can brighten and enliven a room when displayed in small groupings of like objects or by color or material type. Special collections can be rotated out according to season or holiday.



Incorporating old & new together for the best effect

When selling your home, maximize the sales price by using home staging services

DecoratingStudio.com