Memorable Destination For Personalized Unique Gift Baskets & Antique Classics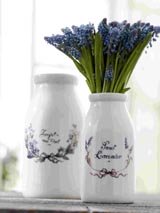 The Antiques Barn at Fiddlehead Farm is your destination for everything from personalized unique gift baskets to antique classics to vintage retro furniture! Decorating with antiques will give your home the unique look you are searching for.
We feature a home and gift collection of antique and decorative arts, and handcrafted unique jewelry. At The Antiques Barn in North Granby, Connecticut our goal is to provide visitors with a inspired shopping experience.
We love the idea of recycling and reusing pieces from the past, and incorporating them into our homes. It reminds us to take a small step back in time when life was a bit simpler.
Whether your taste is traditional, elegant, funky or fun, at the Fiddlehead Antiques Barn you will discover the perfect item for your home, or for a unique personalized gift.
If you are a collector of antiques, enjoy decorating with antiques, or just like to highlight interesting eye-catching pieces within your decor, we strive to offer items that complement and build upon your sense of style. We select antique items that will liven up any space, and will continue to offer new and exciting ways to decorate with antiques.
Come visit us at the Antiques Barn at scenic Fiddlehead Farm in North Granby, Connecticut, or buy gifts and jewelry online. The Antiques Barn is all about great vintage items at exceptional prices! Be inspired as you enjoy magnificent views from the Barn and shop for antiques and personalized unique gift baskets.

Select the perfect antique classic item, a specialty or seasonal gift basket, the ideal collectible, or handcrafted unique jewelry at the Antiques Barn at Fiddlehead Farm in North Granby, Connecticut!
Ever considered taking a Walking Tour of Ireland? Now's your chance to join Louisa and Joyce for an Escorted Walking Tour of Ireland in September 2007 and May 2008! To learn more call Louisa Mayock at 860-653-5279.
Learn How to Build a Website Like Ours ~ It's a fun & creative process

Find out the latest news from the Fiddlehead Antiques site.
Antiques Barn at Fiddlehead Farm a Memorable Destination Featuring an Unusual Collection of Vintage Wares
Individually Designed Specialty Seasonal Gift Baskets featuring gourmet foods, bath products and vintage items
Sterling Silver Handcrafted Unique Jewelry Design
Now registering Fiddlehead Farm Camp:
The Fiddlehead Ideas Store is the place for vintage and reproduction home design and decor furnishings and gifts
Explore Coastal Cliffs, Heather-Covered Hills and Turquoise Beaches on an Escorted Tour of Ireland
For special sales,walking tours, and events
Follow this map for the perfect loop of antique CT shops in the Farmington River Valley
Links of Interest
Creative Energy at Fiddlehead Farm - The Farmington Valley View Revealed
Travel Resources- Packing for travel, international travel air, travel backpacker, international travel tips
Buy locally grown, chemical-free cut flower bouquets and herbs at Sierra Moon Farm in East Grany, CT
Ideas and links for gift fun
Would you like to share your knowledge about Fiddlehead Antiques? Great, find out how you can submit your story or tip here.