We use PayPal as a convenient payment method ~ you do not need to be a Paypal member to use your credit card.
More Specialty Gift Baskets...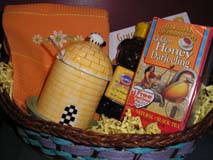 Honey Bee Basket
Sweet ceramic honey pot, embroidered tea towel, 12 oz. pure honey bear, all natural Belgium ginger butter cookies, honey Darjeeling tea
$37.00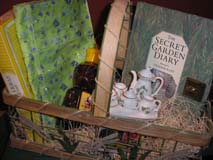 Secret Garden Tea Basket
Perfect gift for a child with this miniature Irish china tea set and an illustrated "Secret Garden" Diary. Also included in this dragon fly basket ~ apple tea, 12 oz. of pure honey in honey bear, child size garden tote a 7 oz. box of gummy bears
$60.00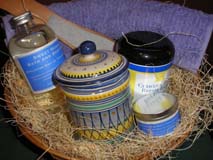 Ceramica Bath Basket
Ceramica bath canister, all natural botanical products include: lemon & lavender cuticle and hand repair, sweet roses bath and body gel, lavender & mint soothing balm, foot emory board, and colorful washcloth
$65.00
More Specialty Gift Baskets...